About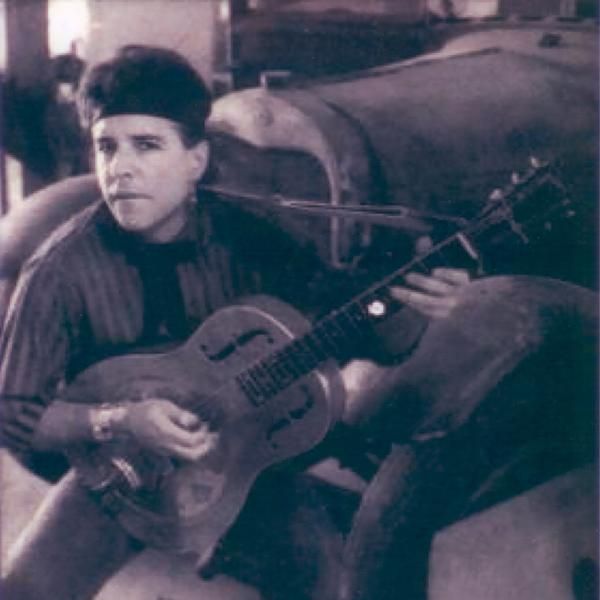 Cody LePow
Singer, Songwriter, Guitars, Harmonica, Producer.
Cody fuses the rich heritage of blues, rock, and country and packs it all into his music and songs. He is true to his vision as an artist, from the way he walks it, talks it, and lays it down. As a solo artist, he brings in a whole other side of his persona while playing various guitars, harmonicas and evoking his warm and heartfelt vocals. 
Cody has done shows with Bonnie Raitt, Taj Mahal, Buddy Guy, Koko Taylor, Katie Webster, Rockin Doopsie, Robben Ford, Coco Montoya, Ray Wylie Hubbard, Finis Tasby, Blue Oyster Cult, the Mannish Boys, and many more. He has performed with members of Dwight Yoakum, Lenny Kravitz, the Eagles, Don Henley, the Pointer Sisters, 13th Floor Elevators, and a host of others. Cody's performances have taken him to concert stages, festivals, fairs, and clubs across the country. 
Cody's works have been described by American Songwriters, Paul Zollo, as: "Songs of timeless  appeal with the classic spirit of authentic Americana."  You've heard his songs in various movies, TV soundtracks, XM Radio, late-night TV, and various covers by other artists. 
Cody LePow keeps cranking it out and finding the magic by being open and receptive to the possibilities of imagination, inspiration, and the moment. Undoubtedly, his most passionate means of expression is his music. Roots music lovers and soulful sound aficionados will agree that he gives us something we can sink our teeth into.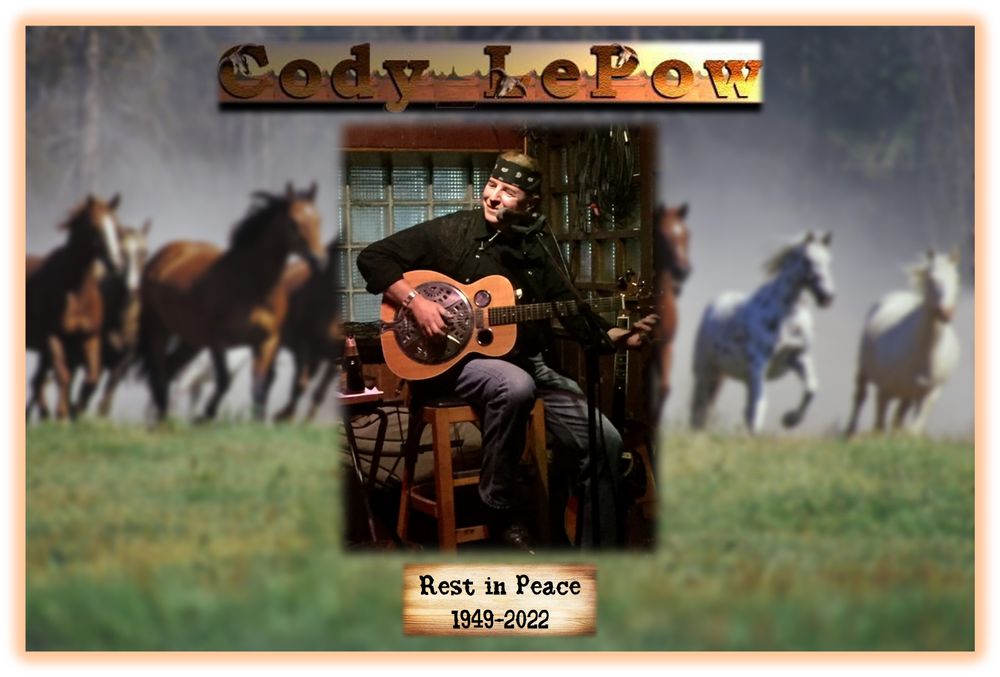 Interview
Interview with Christi Broekemeier from All Access Magazine 
AAM: It was great to see you. I am always intrigued by people who have a huge and warm personality.  What are a few things that you think really molded you into who you are now? 
I haven't seen you in a long time it's nice to see you and that is such an intricate question to really try to identify some of the major things that molded me. I think that the mold is really made when you come into this world and you live it out. I know some major events that have happened in my life and some of the people and my ancestors that have left huge imprints on me. I have always been really drawn to being outside in nature and have always felt an affinity for the natural world. 
AAM: You said something about being familiar with yourself; what does that mean in your life as a musician and person? 
It's just maybe comfortable in the skin. Having a belief system and seeing it reflect in my daily life. I think it comes down to a spiritual acceptance and trying to walk in those shoes. There are certainly all kinds of ways you can look at living this life and what it means to you personally. There is a part about not questioning. 
AAM: You have been playing music most of your life. When did you start and how many instruments can you play? 
Yes I have been playing music since I've been 4 years old. My first instrument was a 1 man band that I got either for my birthday or a holiday and there was this room in the house and my parents had closed it off and everyone went in there and they called me in there and this one man band was sitting in the middle of the room. It was a bass drum, a washboard, cymbal, kazoo and a couple other contraptions. And I started banging away. Soon after that, I started playing reed instruments and then started playing in the elementary school orchestra, had a great teacher and I did that for 12 years. Then I played in the high school band for one semester. And then started singing and playing harmonica in a rock band with my buds and we would play tons of parties and some club dates and we would rent this big hall and throw a big party and like three high schools would converge and it would be a great party always. We actually made money doing that. Cuz we always had someone on the door. Then a friend of mine gave me an acoustic guitar when I was around 14. Got myself a chord book and off I went. Then along the way I started playing national steel guitar, dulcimers and a couple other things. 
AAM: Since you've been playing music from such a young age, have you held any non-industry jobs? Also, if so, which job have been the best and worst? 
Yep, banker, teacher, fisherman, machine shop grunt, chef, dishwasher, truck driver, dr. psychiatrist, spiritual adviser, medium, baseball player, park ranger, animal healer and caretaker, massage therapist, tour guide and a few others I can't think of right now LOL… Oh yeah, I also worked the circus and the rodeo for a while too. 
AAM: You live removed from LA what is it you like about living in a place that is more like being in wilderness then the frenzied city? (No won't print the city…I can barely pronounce it less type it!  
I don't live in the wilderness per se. I have spent a fair amount of my time in places like that. I just like the quiet and the minimal traffic and it seems to give me more time to use my imagination and apply it. 
AAM: Before we get to the music let us know a bit about your love for animals. Do you do any work for the animals as well?                  
One of my first experiences in life and constant companions was my dog heather (a collie) who was always keeping an eye on me. There are actually home movies of her grabbing my ass and pulling me back, sitting me down when I was going to step off the curb into the street my little guardian. I have always just had a big affinity for all animals and nature, and I'd always be bringing the strays home and I wanted to be a vet, but wasn't into the school thing and the music took me. When the other kids in the summer were in the swimming pool I'd be hanging out with or riding the horses, then when that was over, I'd jump in the pool. I really feel that we are the caretakers and the guardians of this planet and so I try to nurture things in that way. I believe in proactive organizations that promote the well-being of the environment and its inhabitants. I try to defend their habitat and existence. Without the foundation of nature, we are surely doomed. 
 AAM: Most recently you reformed your band to be called Cody LePow and Little Buffalo n' The Mustangs, tell us who else is in the band and where we can catch you here in Southern California?    
Yes, Little Buffalo n the Mustangs two iconic American symbols and a major contributor of our heritage. One gave us food and the other got us places. It seems really funny to me that we have mascots, cars, all kinds of things, sports teams named after these, but the actual Mustang and Buffalo are vanishing. The horses have been rounded up and they are killing the buffalo. So, the irony seems to be the fact that we seem to have adapted their symbology into a mere commercial product. It seems our values as a whole are a bit out of whack to me. And that we need to place more emphasis on our environment and maintaining it and less on the almighty dollar. It's just got the whole world running in circles. I have come to the conclusion that narcissistic overachievers have way too much control and way too little compassion. 
AAM: I have noticed a change in your music style (from a Folk Rock to more of a Rock sound); it sounds great, but why the change or is it natural evolution? 
It's not really a change. It's just another side of things. I have a love for acoustic music and traditional American music and rock. So why not do what just comes natural? I think this comes from an amalgamation of influences and impulses. The beautiful thing about making music is there are no rules to what you can create. It seems like a journey that unfolds as you travel with it. People, artists have spoken of tapping in, going to the well, the muse etc. and I think after you have visited long enough you may know how to reach them a little easier. I really don't want to get on a soap box but, again the spiritual aspects in the sense of a gift and realizing it or bringing/practicing it into realization.  
AAM: The new CD has a wide range of songs and is full of personality; in some songs remind me of a blend of Bruce Springsteen, Tom Petty and The Beatles, what is the actual range for your voice (if you know) and when recording new songs do the music or lyrics come first? 
The CD is called "High Voltage Transmitter". I am more of a feeler/healer than a technician. I don't know what the technical range of my voice is nor do I. LOL. There has to be something beyond this madness. High Voltage Transmitter has to do with earlier when we talked about the muse, tapping in, going to the well, there has to be a higher source than us feeble little dweebs running around wanting the latest guitar hero, x box gadget whatever.  There not only has to be but there is. It takes time and some work to get good at anything that you do. I don't know what our real purpose is here, but it doesn't seem like we're reaching it. Maybe it's a long long process and we just keep traveling towards it. Everybody is different so obviously what works for me might not work for others. I just feel drawn to trying to unite as opposed to divide. I don't think there could be a better time to try to reach out and connect with like-minded souls. As far as writing and recording there is no formula whatsoever back to the beauty of no rules go with what you feel and let it roll off you and your pen. It could be a riff that's screaming a title or a lyric or it could be a lyric that is setting a mood and direction. I have a million songs as blueprints, and I can hear them and they are stacked up on paper waiting to be built. I love what I do, and I think I try to spend a lot of time getting inspired if you know what I mean… ha ha ha. Would you like me to tell you more? 
AAM: The making of the CD High Voltage Transmitter was a bit of a journey; can you tell us about the format you used and the making of it? 
OMG the making of the CD was definitely crazy. Sometimes my projects come together from start to finish easily and fairly quickly in a systematic kind of flow. This record definitely had a mind of its own and some greatly challenging moments. Some starts and stops, ups and downs, go-rounds and more changes than I can expound upon in this space… Several studios were used, and I want to give a shout out to Gavin Ross at Steady Studios, Burbank, CA for his patience and fortitude in helping me bring this to fruition. All the tracks were cut live and about 80% of my lead vocals are the vocals from those sessions, so that's what you're hearing. I strongly believe in getting a vital performance in the studio, just like if I was doing it in front of you.  We did overdub some guitar tracks but always returned to the source to get that feel. I think the music always speaks louder and clearer than trying to explain what it is. 
AAM: All songs have a story. Some are very upbeat some are not. Two of my favorites up tempo songs are Brand New Day and Hold On. What are the stories behind them? 
Brand New Day is that moment you look out see some rays of light and you go hmm it's a "Brand New Day"!! what can I say? you have to have hope and you need to be able to renew it. I think the idea of it came well actually I had the first verse floating around in my head for quite a while that good old positive outlook. Then I had the music that I was working on, and I realized that those two needed to get married so lo and behold Brand New Day popped out. 
Hold On is just one of those feelings, maybe with a bit of a reflective edge. Kind of a pledging to the future. You know the reach out thing, maybe a little bit of what I'm going do to improve things next time around? It's also realizing or feeling a vulnerability I think, you know like hanging out there on the edge and going for it. 
AAM: I listened to Mi Paloma, I cried.  I know it is about losing someone: but who and how? 
You know if I told you that story right now, I'd probably start bawling. I feel like I would like to tell you about this, but it would be a long story. So many things that were difficult to deal with seemed to all converge at once and losing someone so dear was really hard. Sometimes when people or things that we love are going to pass on we have some time to prepare ourselves for the loss. When it comes out of nowhere by accident or negligence it is a haunting ordeal. More later. xo 
AAM: You just got an awesome guitar. Cody, tell us about the company and your promotional deal? 
Yes, I did and it is a beauty. I want to thank Chris Sabie @ Sabie Guitar Works, Memphis, TN for bestowing this fine acoustic guitar on me. It really reminds me a lot of a Gibson Hummingbird, same woods and body style. Nice and crispy sounding. It's not really a promo deal but is an endorsement from Chris. I was the '08 regional solo / duo winner and went on to compete at the IBC in Memphis, meeting up with Chris there as well. It's nice when someone believes in your talent and abilities and puts forth. Cool. Check him out!!                               
AAM: Ok we both gotta go! Anything else you wish to say? We're both talk-a-holics, you realize that? 
Yeah! Right now, you know I want to say I don't talk half as much as any skirt I know. 
In your first question about being big and huge I want to thank you for noticing. 
Now really though what I was trying to say is there is a force much bigger than any mortal. Call it nature, God, or Spirit. It is connected to everything, all elements, infinite. It's like gears meshing, we don't see those gears and possibly some are not aware, but there is an amazing connection in all of life. This is where to tap into the magic. It is by no means me. Any reflection of largeness is only due to my feeling connected to that source. It seems we should be more respectful and much better caretakers of this gift. When things that support us are gone, then obviously we are probably not far behind. In my song "Touch the Sky" this is the feeling I am expressing. 
Lots a love. Thank you, good night.